Alright, so the last weekend of June.
We went out of town to celebrate Howard's grandmother's 80th birthday. We left on Friday morning and drove there (took about 3 hours). We got to our hotel and got checked in (worth every cent of the $103 we paid). Howard's aunt had her grandsons (ages 10 & 7) coming into town from north Texas, and the oldest's birthday was Friday. So, we decided to have a little pizza/pool party at our hotel for him. So...off to the pool...
Punkin Pie, cheesin it up!
She LOVED the water!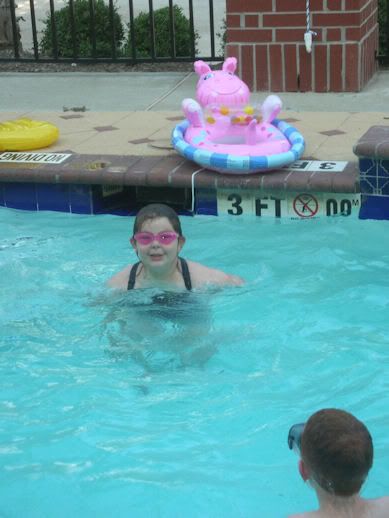 She had an absolute blast! Oh and the redhead, back of the head you see here, is the birthday boy, Kristopher. Oh and the floatie thing behind Kenz...that was for Maddie and she wouldn't get in it-in the pool at least.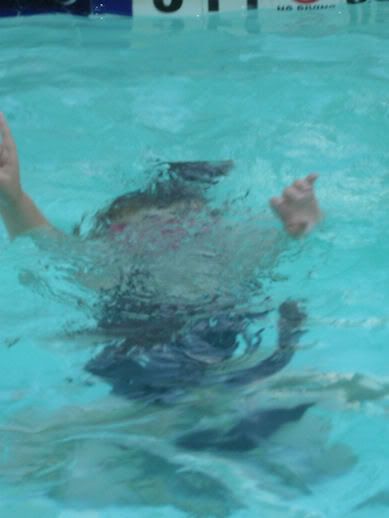 She was trying to give me the peace sign-my camera cut it off.
After fun at the pool we went back to Howard's aunt's house and had pizza and spent time with them, had a little party for Kristopher. Had a ton of pizza and finally headed back to the hotel for much needed baths and relaxing.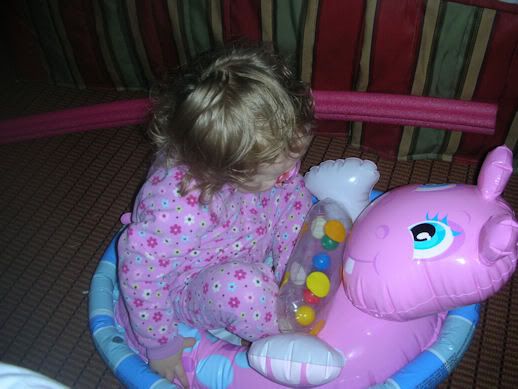 See, after bath time she got very friendly with the floatie and everyones faces got friendly with the noodle she was flaring around hitting everyone with.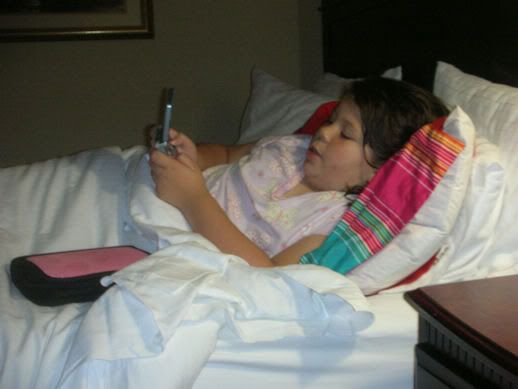 Kenzie loved having that big bed all to herself. This is what she did until she passed out.
And this happened just minutes after the floatie attack. She was zonked out. I talked on the phone, watched TV, played with Kenzie and she didn't move a muscle.
The next day, we got up and had breakfast in the hotel (free and really great I might add!). Then we all got ready for the party ahead. We got dressed, and headed to Howard's OTHER aunt's beautiful home for the party. Their house is beautiful normally but they went all out for Grandma's 80th birthday party...see...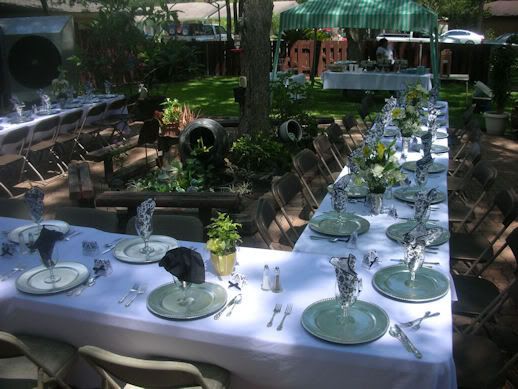 The decor was really beautiful, and that giant fan you see in the corner was keeping it at a very nice temperature despite being 98 degrees that day.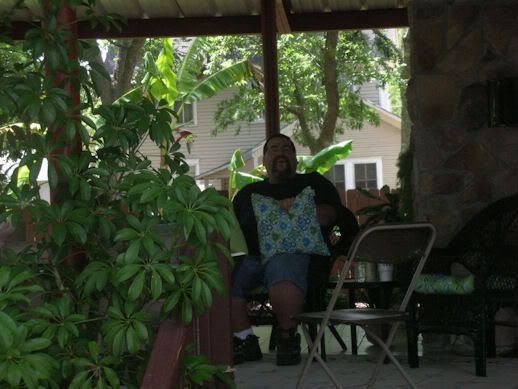 Yes, my brother in law. He's special. He was not into the food at all, and Maddie would not sit still so he took it upon himself to become baby sitter. He literally watched her during the entire meal so Howard and I could eat and chat. I really love that guy.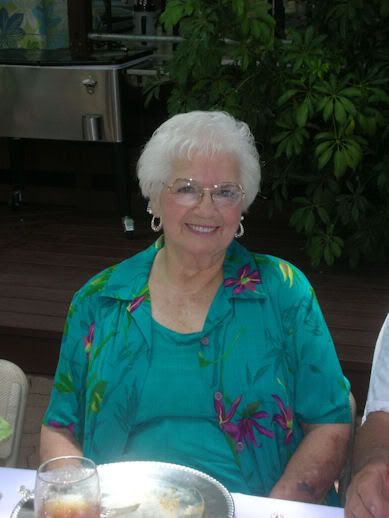 The beautiful birthday girl. She looked so beautiful, she always does.

Shortly after 4, we headed home. We had a very nice time spending time with his family. Also, his cousin Celeste who has two beautiful boys (ages almost 3 and 1) has decided she is not going to have any more children so she took it upon herself to give us the majority of the too small outfits from her boys. The clothes are beautiful and I cried.