Don't ask me why I haven't blogged, because I don't have an answer. I have wanted to, so finally here it goes.
On Thursday, June 18th Howard's company got us tickets to see a Triple A baseball game. We had a blast! The kids loved it (Maddie just got really tired at the end). I got to meet Howard's coworkers. We were in the shade and really did have a lot of fun. My parents came and loved it too. Maddie spent the time going from person to person including those who were not with our part. Yes, she spent half the game in the arms of Howard's bosses wife and daughter. She really liked them. Mackenzie was just fixated on the game, she loved it (that's my girl). By the end of the 4th inning my sister and her family walked right by us. Her kids actually came and sat with us for about 30 minutes. So, I got to spend some random time with my neice and nephew, which was a very unexpected surprise. By the end of the night, my hips were sore I guess from the way I was sitting. By the time we got home, we were exhausted and it was after 10, although we left at the top of the 8th. By touch my hips were so sore, and when I got home I realized why. Somehow I got a 6" bruise on my right hip and a smaller one on my left. It was sore and protruding and red and purple. Absoutely lovely. Oh and the kids are still talking about the 'ball game'.
Friday June 19th Howard and I sat in the doctor's waiting room absoutely bursting with anxious energy. We couldn't stop figiting! We were constantly texting and twittering and I needed to pee SO BAD (Having downed like 4 bottles of water in the past hour and a half). I was really sore because of my bruises from the night before. When they called us in, Howard and I literally jumped from our seats and ran back to the ultrasound room. I felt like I might throw up, literally. I finally laid down and tried to chill while Howard stood over me and refused to sit. The second the wand hit my stomach the tech asked, 'Well, do you want to know what the sex is? I can tell you my first guess right now." I was like, WHAAAAAAAA?! ALREADY?! CRAP! I was afraid to know. I just let my stomach turn and looked at Howard and made him answer her. He said yes and she said that she was pretty sure it was a boy. All the air Howard and I had in our lungs came rushing out. I told her if she was right, I was going to cry. Seconds later, she showed us another shot of a penis then the scrotum. I cried. Howard cried. She went on to keep checking other things, constantly getting shots of his family jewels calming my fears of a false result. Howard had finally sat down and was radiating testosterone when he realized how obvious it was that his son was a boy, lol. He was measuring right on at a foot long and weighing a pound. He looked wonderful. She showed us all of his organs and we got to see him dancing, opening and closing his mouth, and she even showed us a heat sensor of cord blood going back and forth while still showing me the penis (proving it's not the cord between his legs). I practically danced out of that office. We texted and twittered all our friends and called his parents first. His dad played a joke on his mom and said that it was another girl, but when she heard the truth she screamed, 'I TOLD YOU'! My mom instantly started crying with excitement. Kenzie just shrugged her shoulders and said, 'Yeah, I know'. She was so confident. Brat, lol. Maddie just said, 'YAY BABY BRUDDER!' My regular doc appointment went well. The nurses and my doctor sharing our excitement. I gained my first pound, too. I did my one hour glucose test (I had gestational diabetes with the twins, so we assumed I would have it again, so we decided to test early). I failed the first test by the way and am supposed to go in and have the 3 hour one as soon as I can get in there.
Wanna see pictures? *beware baby boy parts below*
This is the first shot she got, I see why she knew it was a boy lol
Here's a shot of the front of his face with his hand under his head.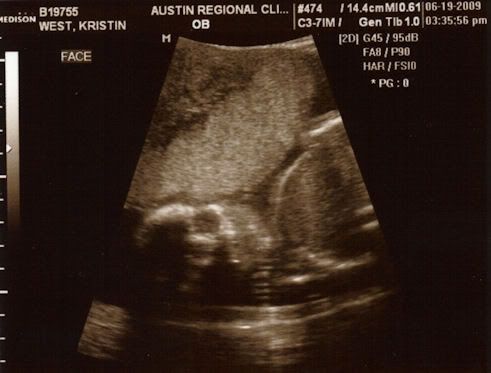 And here's a picture of his foot and toes.
So yeah, we're having a boy and finally it is starting to set in. We could not be more excited!
Everyone has asked about names. Only my mother in law has said that she didn't like it but if she had it her way our kids would of been named Linda, Dorothy and Howard III. Not that I have anything against those names, but um. no.
Anyway, his name is going to be Parker Philip West. PP...PPW...PW...I know. Everyone has said that, but that still doesn't take away with how much we love the name. It has made me second guess it a bit though, but oh well. Howard came up with Parker, and I love that for a first name. Philip is my Grandfather's name and he's almost 90, doesn't look at day over 60. I hope and pray that I have health as good as he does at 90 when I'm 50!
So, that exciting end of that week was followed by a busy, but great weekend and last week. We have sent in an amended version of our taxes to the IRS which will result in another refund. SCORE, THANKS RENEE! We finally got my grant money from school which we were able to use for some stuff we needed, including some maternity clothes for me that I have to return because they are ALL TOO BIG!! We are going through all of the pink clothes we have and are preparing to ebay it up.
Last weekend was amazing...we went out of town and I took a ton of pictures. However, I think I'm going to end this one for now.